China and Denmark meet for dinner
Apple from China has established a strong friendship with the Sømod family. And the Danish family has learned a lot about China, as well as learning how to eat with chopsticks.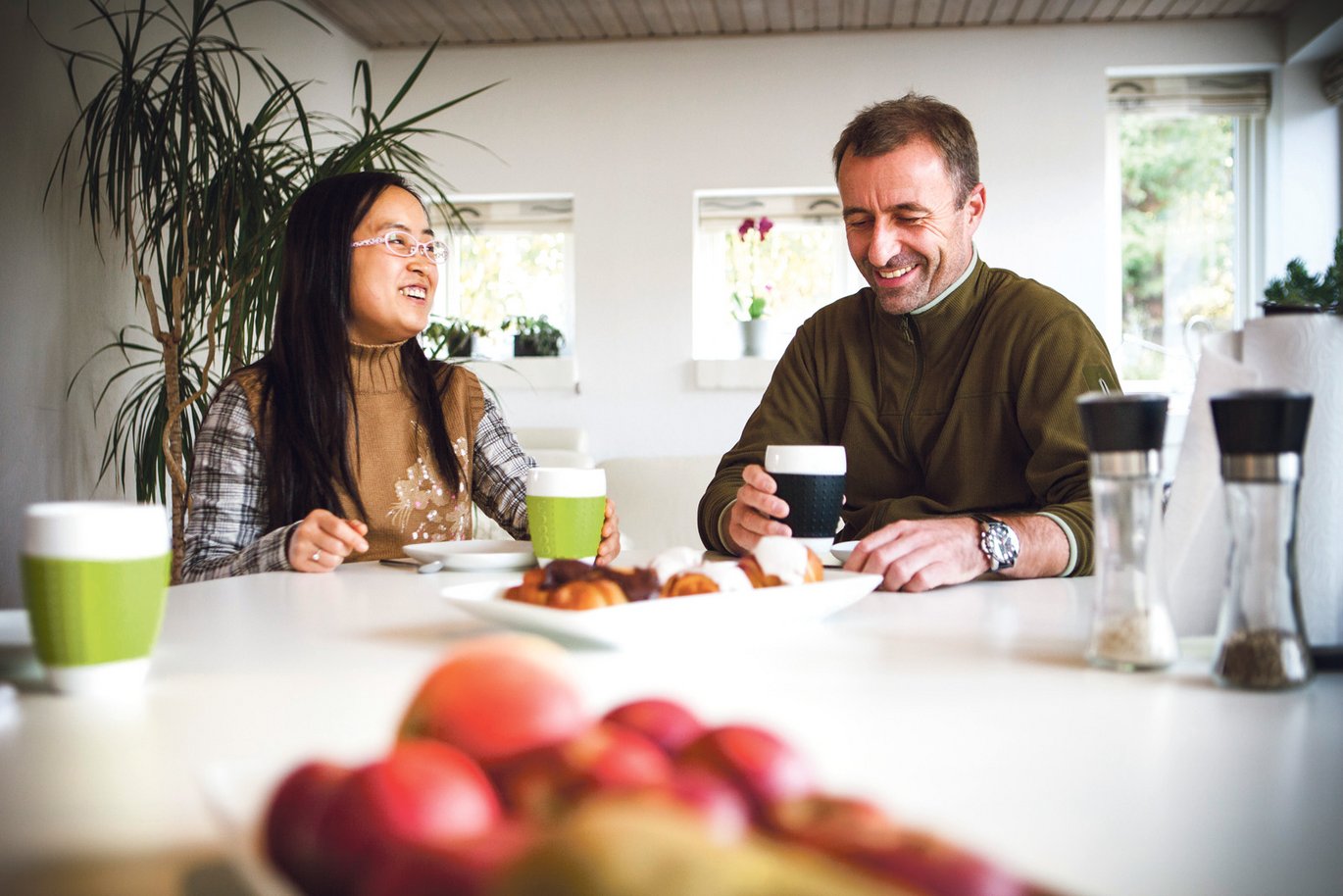 "They're my Danish family, because my own family is a very long way away at the moment," says Apple from China about the Sømod family, consisting of Bent, Jonna and their two sons.
Apple is a PhD scholar at Aarhus University, where she is researching into psoriasis. Her real name is Zhanyan Kang, but Apple is ea-sier for Westerners to pronounce, she says.
Apple and the Sømod family were matched in the first round of the "Internationalize with us" cultural exchange programme, which connects international PhD scholars with Danish families.
"It's great to learn more about Danish culture and find out how the Danes live and what they have for dinner. This is important for me because I have lots of Danish colleagues, so it's useful to learn about Danish customs and how to communicate and behave appropriately in Denmark. In China you have to be extremely polite to your supervisor, whereas you can be more relaxed in Denmark," she explains in Danish. Her Danish is pretty good, only interspersed occasionally with English words.
Nice to be able to help
Apple is not the only one to benefit from the "Internationalize with us" programme, underlines Bent Sømod.
"My wife and I have often talked about welcoming international visitors to Denmark and being mentors for them. But we lead busy lives, and hadn't ever got round to doing anything about it. So when the programme was introduced at my workplace, we thought we ought to seize the opportunity," explains Bent Sømod, who is a section manager at COWI, one of the companies ta-king part in the "Internationalize with us" programme.
"I've been to China, but I never managed to talk to many Chinese people because of the language barrier. So meeting Apple has given me a whole new angle on China, and it's nice to be able to help someone else at the same time."
The family has helped Apple to get used to Denmark, but they have also helped her solve some more practical problems.
"Apple has tried eating some pretty strange things because she didn't know what they were or how they should be eaten. For instance, she once thought a carton of cottage cheese contained yogurt. So Jonna took her out shopping one day to explain exactly what the various Danish products contained," explains Bent Sømod.
In return, Apple has introduced the family to Chinese food and taught them how to eat with chopsticks.
Hitting it off
The first round of "Internationalize with us" ended in May, but the Sømod family and Apple still meet up every now and then.
"We're lucky that we hit it off so well. The match was successful, and we plan to go on seeing each other," explains Bent Sømod.
The family were so pleased with the result that they have joined the second round of "Internationalize with us", which is being launched in November.
"This time we've been matched with a couple from Australia, and Apple can be a sparring partner for them now. After all, she knows what it's like to be a newcomer in Denmark," concludes Bent Sømod.