Introduction to life in Denmark
The life of a full-degree student is a challenging one – but it can also be entertaining. A new blog gives an account of some of the obstacles to be overcome.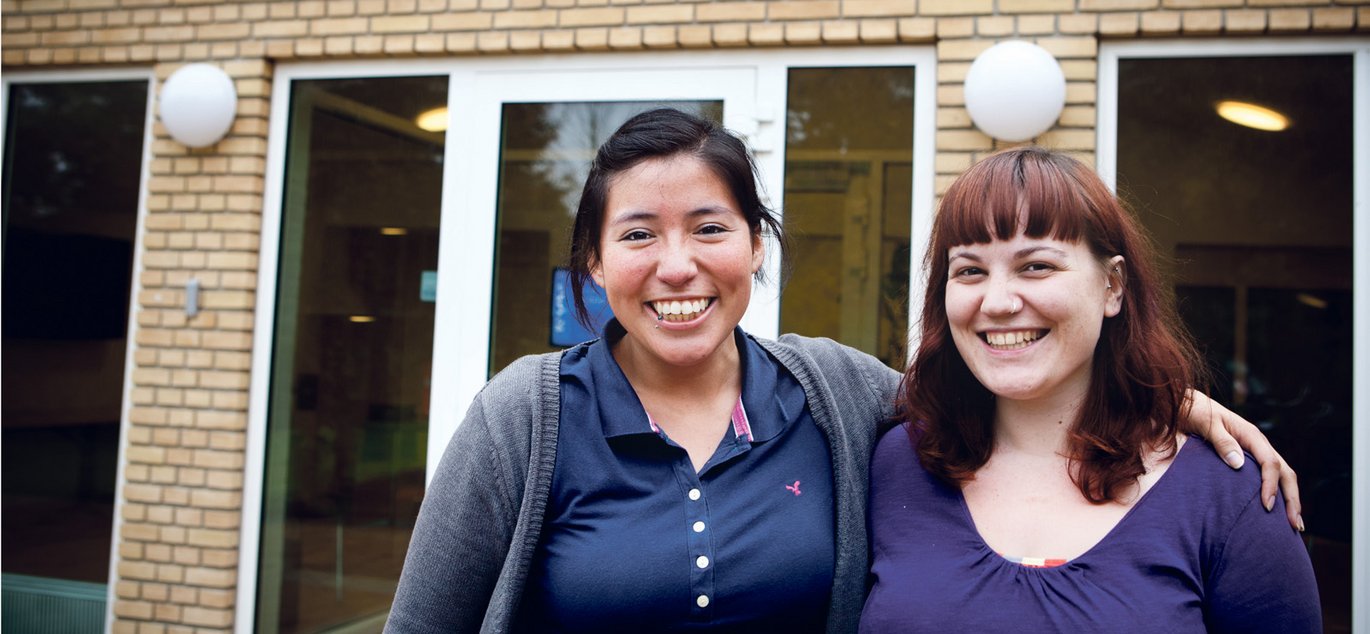 "Of course, we're here to study. But we also want to feel at home. Denmark is beautiful, but it can be difficult to put down roots here," says Marcia Allison, and Jessica Navarro nods in agreement.
The two girls are studying Cognitive Semiotics and English, respectively. Both international students are in the third semester of their Master's degree courses, and both are taking full degrees at Aarhus University. Together, they have started a blog called "Hey you, AU", explaining what life is like for people in their situation.
Accommodation problems tackled with a sense of humour
"It really started with us talking about the weird experiences we each had as full-degree students. Even simple things like enrolling for exams can be difficult when the websites are only available in Danish. And we thought to ourselves that there must be other people with the same problems," says Jessica Navarro.
"Unlike exchange students, we are left very much to fend for ourselves. For example, we have to find somewhere to live ourselves, but that can be a bit of a challenge for someone who doesn't know Aarhus," adds Marcia Allison.
And that was the impetus for
starting the blog, where the entries cover everything from the practical problem of finding somewhere to live to more sensitive issues such as loneliness.
"Even though we might very much want to make friends with Danes, it can be very difficult when they disappear so quickly after classes. At Master's degree level, most people already have an established circle of friends in Aarhus. And the regular exchange students go back home after one semester, which is heartbreaking," says Jessica Navarro with a smile.
Given the added demands of coping with full-time study, building up a network is a daunting task. In consequence, many full-degree students feel isolated.
A fresh face at the International Centre
The two girls are enjoying their stay in Denmark, but they would like to help make things easier for others.
"In the blog, we write about our own experiences. But we aim to make them relevant for others as well. So we combine practical information and the fruits of our academic experiences with some-thing personal and amusing," explains Marcia Allison.
"The challenge is to be some-thing more than just an information site. We would like to be a fresh, personal face at the International Centre, which provides help to many international students. For example, a post on what it's like to date a Dane is at first instance based on personal experience. But it also deals with some general differences between Danes and foreigners, which can be funny" explains Jessica Navarro.
There is a more practical goal to the blog. The aim is that it should be a place where full-degree students can comment, hold discussions together and create networks – and in this way perhaps to provide a means of making it easier to put down roots in Denmark.
---
SOME EXTRACTS FROM THE BLOG:
"It's no secret that the Danish culture can be difficult sometimes for international students. Although the expectation of self-reliance is tough, don't stress out too much, for we are here to show you that you are not alone. Whether you want to complain/whine/rant/vent/cry/laugh and everything in between, we got you covered."
"It might take some time to get used to how things are in Denmark and Aarhus University, but once you do get to grips with it (and that happens remarkably quickly), it's great. For example, if you have just arrived for your studies, you probably still have no idea what a CPR number is, or what it does. But once that magical little yellow card arrives at your door, it is like the heavens have opened and are shining a great light upon you that says 'you belong'!"
"Ah, housing. So necessary, and yet such a blight on the otherwise lovely city that Aarhus can be to live in. […] The International Extraordinaire understands just exactly how frustrating the situation is (having lived in 4 different apartments during their first 10 months in Aarhus), and offers its sincerest sympathy."