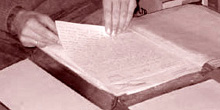 AU University history, Fredrik Nielsens Vej 5, Building 1448, 8000 Aarhus, tel. +45 8715 3045, email: pl@adm.au.dk, hjemmeside: http://www.au.dk/uhu/velkommen
You are welcome to send in old photos etc.
If you have any photos or other material which somehow relates to Aarhus University's history, AU University History would very much like to hear from you.
1. Photos
Former students are particularly welcome to send in photos from halls of residence, teaching activities (lectures, practical exercises, seminars), students studying in their room or at the library, student associations of all kinds, excursions and parties as well as students having a meal (in the 1930s and 40s, many students had their main meal of the day at one of Aarhus' many guest houses, but otherwise they stuck to eating "dry foods" in their room).
From current and former staff members at the university, we are interested in photos from parties and teaching activities, excursions, anniversaries, receptions, exhibitions, doctoral defences, official visits, guest lectures, scientific get-togethers – and not least everyday situations, such as coffee breaks and visits to the cafeteria as well as photos of caretakers, skilled workmen and gardeners in action.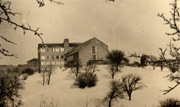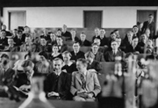 Furthermore, we are interested in photos of university buildings as well as photos from laboratories, libraries, archives and experimental stations, classrooms and all types of teacher and administration offices as well as furniture and equipment (typewriters, telephones, research equipment, furnishings etc.), and we are, of course, interested in any recordings of persons affiliated with the university. Finally, we are interested in photos from the University Park.
When the University History Committee was established in 1987, the administration only possessed around 50 historical photos of Aarhus University. Today, we have more than 400 times as many, in other words a collection of more than 20,000 photos showing different aspects of the history of Aarhus University. This increase is a result of the dedicated efforts made by the University History Committee – especially since 1998. See the collection leaflet for further information.