Activities outside of Aarhus
Since the 1940's, The University of Aarhus has had a number of experimental stations located around Jutland, such as the Geophysics-Geological Field Station at the limestone beds at Mønsted, the Geology Field Station at Klim, the Marine Biology Field Station at Rønbjerg and the Påskehøjgaard Botanical Experimental Fields at Ølsted. Also worth mentioning is the Faculty of Science's cutter Genetica II, a 20 ton research vessel attached to the Institute of Biological Sciences' Department of Marine Ecology.
The Aarhus University Research Foundation was set up in 1944 when the owner of the chemical company Cheminova donated share capital of 300,000 kroner to the university. Cheminova, which was originally based in Zealand, has been based at Harboøre Tange on the west coast of Jutland since the 1950's. In 2000, the Research Foundation supported the university's research programme to the tune of 43 million kroner.
In 1954 Sandbjerg Manor was handed over to the university, which has since used the manor in Southern Jutland as a centre for academic meetings, conferences and courses. In 2001, a total of 9,406 people took part in residential activities at Sandbjerg, while 2,243 participated in one-day meetings.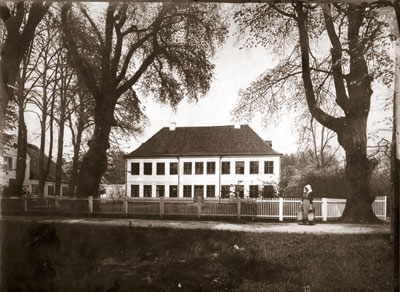 Sandbjerg Estate - photographed most likely between 1900 and 1920. (Photographer unknown. Sandbjerg Estate Office).