The State and University Library, Aarhus
In 1893 - 35 years before Aarhus became a university town - a report which laid the foundations for the establishment of The State Library in Aarhus maintained that the new institution should contribute towards "breaking down the centralisation that is prevalent in our country" by making it also possible to nurture academic studies in "the provinces".
The State Library building was constructed to the design of architect Hack Kampmann on Bispetoften, and was officially opened in 1902. The institution played a significant role in the decision-making over the question where a university in Jutland should be located. The State Library functioned as the university library in Aarhus right from the time when university teaching began in 1928, though not officially until 1934.
The Danish National Business Archives, which had been established during the 1940's, took over the building in 1963, when the State Library was given new buildings beside the university. Space had been a problem for many years in the State Library's original building, so when plans were being drawn up for the university's new main building in 1942, a site was earmarked for the library. In 1963, when the State Library's new building with its distinctive "book tower" was inaugurated, the library lent out 109,483 items; 38 years later, in 2001, annual loans had risen to 1,025,455.
The State and University Library has played a very significant role in the life of the university throughout the years, not just as a university library, but also on other fronts, and often stemming from the personal initiatives of academic librarians.
For example, in 1906 a couple of librarians found that Bishop Fredrik Nielsen, who at that time was in charge of the city's campaign for a university, did not view the cause with quite the burning enthusiasm that they would have wished. So they took matters into their own hands in order to breathe new life into the campaign. They invited all those in Aarhus who may have been interested in the university idea to a meeting, which a year later led to the so-called "Wivel Meeting"in Copenhagen. Here, for the first time, the people of Aarhus had the opportunity to present their demands for the setting up of commission of inquiry into the question of Denmark's need for a second university to representatives of the Danish Parliament and Copenhagen University.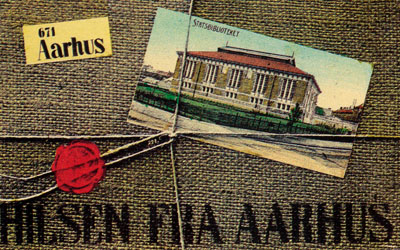 A postcard from the period just after the 1902 inauguration of the State Library in Aarhus. The building on Bispetoften was designed by the architect Hack Kampmann. Since 1963, when the State Library moved up to the university, the Business Archives have been housed in the building.