The Background
A long battle had preceded these first steps in Aarhus. Now and again, over a period of several centuries, plans and ideas for the establishment of a university in Jutland would be proposed. Viborg had been a strong contender since the 1720's, and 200 years later came to the fore again alongside Sønderborg, which had been German since 1864 and had only returned to Denmark in 1920. Kolding was also in the picture. The real contest between these cities kicked off when the Ministry of Education appointed a Commission on Universities in 1919.
This commission had been given the task of investigating whether Denmark needed another university; if so, where this should be located; and how, in that case, it should be organised, ie: which subject areas should be represented. In an attempt to influence the outcome, each of the cities involved put their propoganda machinery into full swing in order to promote their own excellence.
It was in this context that a broad cross-section of citizens from the city's business community, organisations and institutions joined forces in 1921 to form the organisation "Aarhus University Association", which, together with Aarhus Municipality, became the driving force behind the campaign to ensure that Denmark's second university should be in Aarhus. Aarhus set about the task with great thoroughness, building up scholarly collections, establishing academic associations, and ensuring that the Municipal Hospital was brought up to such a standard that it was the best in the province.
The afore-mentioned commission sat for all of six years before finally making its report in the autumn of 1925. This suggested that there was a real need to take pressure off Copenhagen University; a large majority of the members favoured Aarhus as the best-equipped to become a university city; and an operational plan was produced that could act as a starting point. Not least, weight was given to the significance of a "Business Faculty".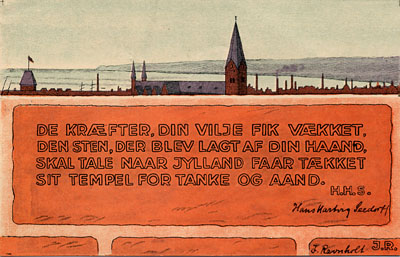 Aarhus University Association's fund-raising activities for the establishment of a university took place on many levels. The city's more prosperous citizens could individually subscribe 10,000 kroner (the equivalent of a full year's salary for a professor) and a number did so, but anyone could join in, for example by buying this postcard that was on sale, without profit to the seller, in all of Jutland's bookshops and also in the schools in the counties of Aarhus and Skanderborg. The price was 25 øre. (University History Committee).