The Inauguration
Education Minister Jens Byskov and a host of other dignitaries were in attendance when the first chapter in the history of Aarhus University was written with the inauguration of "University Studies in Jutland" on the 11th September 1928. The inauguration ceremony was held in the flower-bedecked ballroom of Aarhus Technical College, while flags were raised throughout the city, and schoolchildren had a half-day holiday in honour of this epoch-making event.
Aarhus Municipality had made available a budget of 33,000 kroner for the first year, classrooms had been booked in Aarhus Technical College in the centre of Aarhus at a nominal rent, and a teaching force consisting of a professor of philosophy and four senior associate professors, one each for Danish, German, English and French respectively, had been appointed. By the day of the inauguration, 64 students had signed up for study. In the course of the first semester that number rose to 78.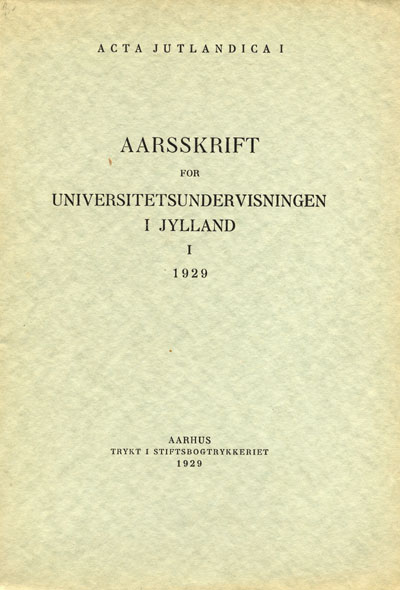 The first edition of the university's yearbook - Acta Jutlandica - was published the year after the university's inauguration. In addition to a detailed annual report it also included two academic articles. With this, the fledgling university loudly proclaimed its level of ambition. At the end of the 1950's, it was decided to publish the yearbook separately from Acta Jutlandica, which today exclusively publishes academic papers. .