The 1931 University Act
The facts that in 1929 Aarhus Municipality had handed over a site for the future University Park to the University Association, and that this association had not only made plans for a preparatory medical education, but had also collected funds for the first university building, were hardly insignificant in affecting The University Act of 1931.
With this law, it was definitively laid down that the state would be willing to financially support the running costs of the university on condition that the Aarhus University Association financed the construction of university buildings. And that was the way things were for many years. Up until the 1940's the university's buildings were all constructed exclusively by privately-raised contributions. As a result of the 1931 Act, the state financed the lion's share of running costs from 1932 onwards. It was also a natural result of this Act, putting a stop, as it did, to all further talk about Viborg, Sønderborg and Kolding, that an architecture competition was immediately launched. This was won by the architects Kay Fisker, C F Møller and Povl Stegmann.
Before around a thousand invited guests gathered in a huge tent, King Christian X inaugurated the first university building with the following words: "In the desire that the academic research to be conducted here shall be conducted in spirit and in truth, I hereby inaugurate The University of Aarhus". This was on the 11th September 1933, and the institution has borne this name ever since.
Incidentally, His Majesty's enthusiasm for the modern university building's rather functionalist style was not unqualified, and he recommended the architect C F Møller to seek inspiration in the architecture of Danish manor houses.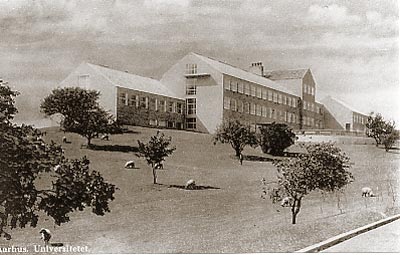 Sheep grazing in front of the university's first building, viewed from the south-east in 1934. The building had been inaugurated in September of the previous year, and was the first to result from the architectural competition launched in 1931, which was won by Kay Fisker, C F Møller and Povl Stegmann. In May 1934 the city's head gardener imported twenty sheep from Nymindegab to keep the grass down on the university lawns. However, this idea did not last long for various reasons, and the animals had to be removed. Today the building houses parts of the School of Law. (Photographer unknown. University History Committee).