The Royal Decree
On this understanding, the government was able to take a somewhat different view of the case than hitherto, even though misgivings about the proposal were being expressed in circles at Copenhagen University. To cut a long story short, in April 1928 a Royal Decree was proclaimed granting the right to conduct examinations in Propaedeutic Philosophy for a three-year trial period, while also making it possible to start introductory university courses in the language subjects of Danish, English, German and French. It was stressed that the whole operation should place no burden on government funds.
So the process began, posts were advertised, negotiations were conducted with Copenhagen University on the screening of applicants for teaching appointments, a new building was bought as a student hall of residence, and rooms were hired for teaching.
From the university's beginning in September 1928, Aarhus University Association had the job of sitting on the University Board, alongside representatives of the Municipality and a representative of the university teachers. However, equally important was the organisation's task of raising funds for the construction of university buildings on the site which, in 1929, the Municipality had donated for the future University Park.
The three-year trial period (1928-1931) passed off satisfactorily; though not without the accompaniment of sniping comments from representatives of Sønderborg and Viborg. These towns remorselessly stressed that this was no more than a trial period; that it was not to be regarded as a proper university, but only a "university level education", etc. etc. So the university battle was certainly not at an end with the inauguration of "University Education in Jutland".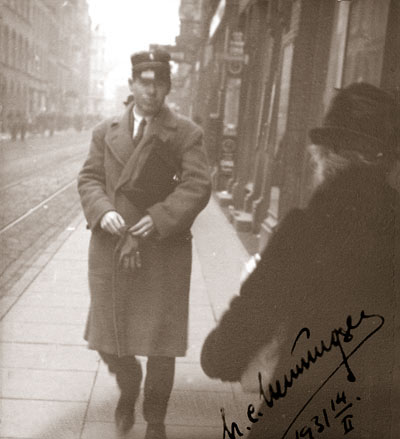 Master's student Henning Henningsen (born 1911) captured by a street photographer in Guldsmedgade in February 1931. The Upper Secondary School graduation cap was worn throughout the freshman year at that time - the white cap in summer and the black in the winter. (University History Committee).