The Buildings and the University Park
The buildings of The University of Aarhus are located within and fringing the University Park, which has expanded somewhat over the years. The first building to be finished in 1933 stands on a projecting promontory on the eastern edge of the natural hollow, and today houses a number of the Social Science subjects.
With only slight modifications, the architectural style in the University Park has been sustained since the time when the architects Kay Fisker, C F Møller and Povl Stegmann won the architecture competition launched in 1931. Since 1939 C F Møller's has been responsible for building projects. The harmonious balance between the undulating park and the homogeneous style of building creates a beautiful campus that has achieved international renown.
The characteristic yellow-brick buildings in the University Park have a total floor area of 246,000 square metres. In addition to this, the university occupies a number of buildings outside of the park with a further floor area of 59,000 square metres.
A new building housing five lecture theatres was opened in 2001. The walls and ceilings inside the building feature a major painting by the artist Per Kirkeby.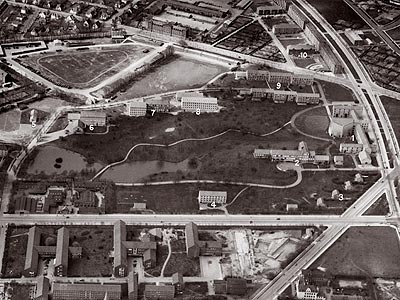 The University of Aarhus viewed from the east, ca. 1953.
(1) The Main Building on the Ringgade (started in 1942 and inaugurated in 1946).
(2) 1933's first university building, and a few metres to the right of this is the high-voltage transformer building, constructed in 1941.
(3) Professors' Houses (the four along Katrinebjergvej were built in 1933-34, while the fifth dates from 1947).
(4) The Hall of Residence for Women (Hall of Residence VII) from 1950, with the Warden's Lodge to the left.
(5) The Department of Music Studies from 1950.
(6) The Museum of Natural History, which was inaugurated in 1941.
(7) The Departments of Biochemistry and Physiology, built in 1937, alongside the Department of Hygiene (the paler building) from 1953.
(8) The Departments of Pathology and Pharmacology, 1953.
(9) Halls of Residence I-VI with two Warden's Lodges. I-III were built in the 1930's, while IV-VI followed in the next decade.
(10) The basement of the hall of residence for married students at Gustav Wieds Vej 31 has provided accommodation to a number of organisations connected to the university, including the Student Council and the Course of Journalism.
(Photographer unknown. University History Committee).